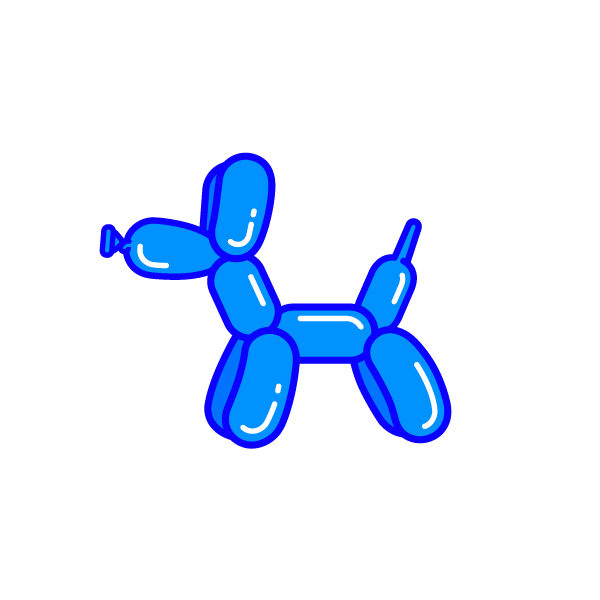 Evan is no ordinary balloon twister. He is an artist: providing clients around the world with world-class balloon sculptures. Guests will enjoy the same skill and craftsmanship as clients like Woody Allen, Justin Timberlake, Stephen Schwartz, Shoshana Bean, Microsoft, Bank of America, Hallmark, and more. 

Evan has been producing eye-popping, one of a kind balloon sculptures for decades. From 
recreating major political figures and movie stars, to fire breathing dragons, to exotic dancers on poles as hats, Evan's made-to-order 
balloon creations are known for quality, specificity, and craftsmanship. Evan Presto's balloon art is the perfect 
visual anecdote to any family or corporate party, special occasion, or themed event. Twisting balloons at incredible speeds, Evan's effortless precision attracts jaw-dropping spectators to watch in complete disbelief. It's a surefire way to add a WOW-factor 
to your event photos and impress guests of all ages. Evan uses certified, high quality, biodegradable balloons.
Everything You Need to Know
World Class Entertainment
Evan is proud to accept any request, and never shies away from "difficult" sculpture concepts. As a crowd pleaser, Evan will frequently make first-time balloon sculptures for clients; WOW-ing the crowd with bringing impossible challenges into reality. 
Unlimited Designs
With enough time and materials, Evan can make anything out of balloons. Evan is proud to accept any request, and never shies away from "difficult" sculpture concepts. As a crowd pleaser, Evan will frequently make first-time balloon sculptures for clients. From life-sized motorcycles to bride and groom doppelgängers, there is no limit to what Evan can create with balloons. 
Decades of Experience
Evan has been twisting balloons for over 20 years on five continents and over 15 countries. Evan twists for hundreds of events each year all over the U.S. and around the world. 
Everything You Need
When you hire Evan you are not just hiring a balloon artist, you are hiring a personality. Balloon sculpting is not inherently a performance, but Evan's freakishly quick hands and jaw-dropping skill hypnotize crowds without the "to-do" of a formal show. Despite sculpting alongside DJs, jugglers, dancers, face painters, and more, Evan is consistently told he is, "the most popular part of the event," and, "all we needed was Evan! Next time no DJs or anything else." Evan will be the biggest hit at your event, guaranteed. Evan is affable, magnetic, fun to be around, and is routinely asked back to work for the same clients year after year. Evan is a surefire way to add energy and enthusiasm to your next trade show, party, or special event. 
Remembered for Years
Evan is a new kind of balloon artist, creating sculptures rather than thoughtless throwaways. Each piece is a hand-designed, made-to-order work of art for every client. Balloons reconnect us with our inner child, and clients always leave feeling more inclined to celebrate themselves and love the party they're attending, rather than shying away in the corner. It's the perfect ice breaker, and gives patrons an excuse to share parts of themselves that they'd otherwise continue to hide. When people begin acting like themselves again, they are able to open themselves up to new connections, new friendships, relationships, and opportunities. Evan's balloon sculptures are guaranteed to bring out the best in people to make your event one to be enjoyed by all and remembered for years to come. 
Highest Quality Available
Evan uses the highest quality Qualatex balloons for his sculptures, which are guaranteed to outlast and outperform any other balloon on the market today. While balloons are temporary, some of Evan's clients have reported their sculptures lasting as long as 3 weeks and even 4 months. Here are some tips to help with the longevity of your sculpture: Keep your balloon out of the sun and extreme heat as much as possible. Sunlight heats up the air within balloons, making them expand and inevitably burst. Avoid placing your balloon sculpture on the ground, even indoors. 
100% Hassle-Free
No table, no chairs, no outlets, or sound systems necessary. Evan brings everything with him and is ready to go within minutes of arriving. Evan is completely portable, wearing all of his materials in an artist's apron around his waist.  With Evan's complete mobility and flexibility, event placement and managing crowds are made 100% hassle-free. 
Eco-Friendly
Evan is proud to provide an eco-friendly product to his clients, purchasing balloon materials with the environment in mind. Evan always uses balloons made from 100% latex; no plastic whatsoever. Evan's balloons are 100% biodegradable and decompose as fast as an oak leaf in your backyard. Purchasing latex products also helps combat deforestation. While latex comes from rubber trees that grow in the rainforest, latex harvesting actually discourages deforestation since latex-producing trees are always left intact. (Latex is collected by cutting the tree's bark, then catching the latex in a cup.) A tree can produce latex for up to 40 years, ensuring 4 decades without trees being
To see Evan's gallery of lewd balloon sculptures, press the button below.
WARNING:
Pictures contain graphic balloon sculptures. Viewer discretion advised.